The AAUW advances equity for women and girls through advocacy, education, philanthropy and research. A graduate holding an associate or equivalent, baccalaureate or higher degree from a qualified educational institution shall be eligible to join the AAUW.
To become a member of the AAUW Aurora Area Branch, fill out the online membership form. For more information about the Aurora Area Branch, email aauwaurorail@gmail.com or visit us on Facebook at  AAUW Aurora – IL Area Branch.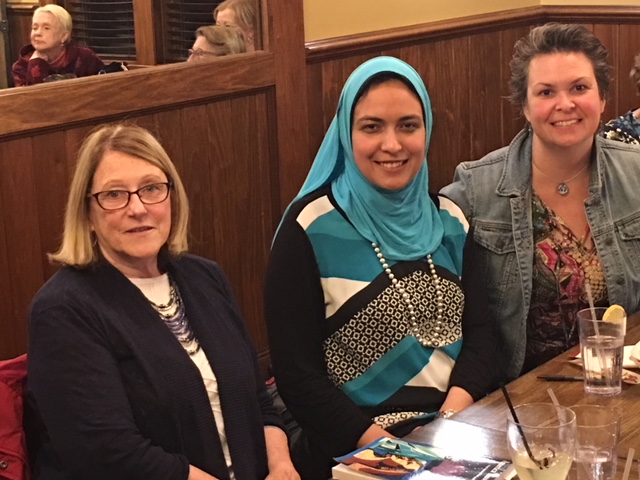 Program with Author
At our October meeting, local author Rania Zeither spoke to members about her book, "America Through My Eyes: Experiences of an Egyptian Muslim Woman." Thanks so much to Rania for sharing her experiences with our group!
Upcoming Events
Books by Night –  5 p.m. Wednesday, Jan. 24, at Two Brothers Roundhouse, 205 N. Broadway in Aurora. The January book will be Senator Hattie Caraway: An Arkansas Legacy by Nancy Hendricks.
Movie Group –  6:15 p.m. potluck, 7 p.m. movie Monday, Feb. 12, at member Joy's home. The February movie selection will be A United Kingdom.
Monthly Meeting/Chili Supper –  5:30 p.m. Thursday, Feb. 15, at West Plaza Meeting Room, near Colonial restaurant in the 1900 block of Galena Blvd., Aurora. Enjoy good conversation over plates of spaghetti and bowls of chili plus salads, breads and desserts.
Learn more about branch activities in our Highlights newsletter.