The American Association of University Women (AAUW) is the nation's leading voice promoting equity and education for women and girls. Since our founding in 1881, AAUW members have examined and taken positions on the fundamental issues of the day — educational, social, economic, and political.
A graduate holding an associate or equivalent, baccalaureate or higher degree from a qualified educational institution is eligible to join the AAUW.
A Legacy of Empowering Women
When AAUW began in 1881, few women had the opportunity to pursue a degree—prompting founder Marion Talbot to support a fund for women's education. Today, women outnumber men in earning degrees at nearly every level. Yet our work is far from done.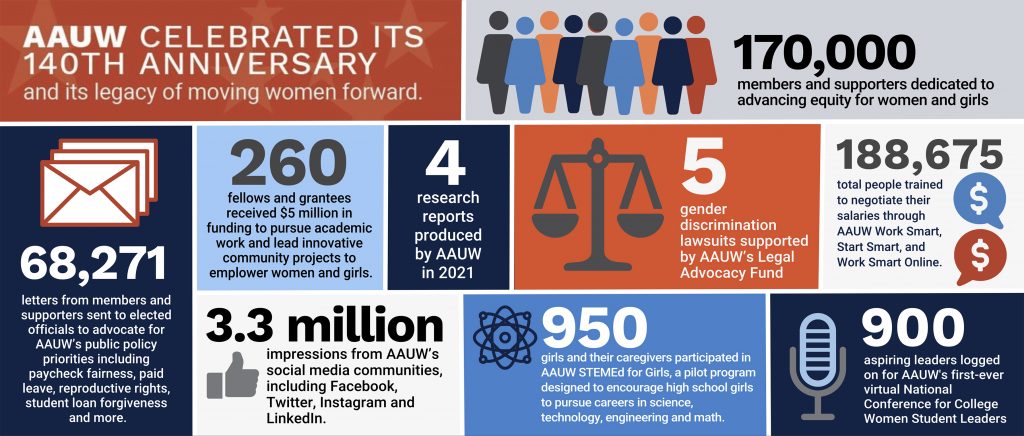 Over the past 140 years, AAUW has evolved to become the leading voice in advancing gender equity in education and workplaces everywhere. Through research, education and advocacy, we're committed to ensuring that everyone gets the same opportunity to learn, earn and lead. Our programs aim at moving women forward—and we fight for policies that support our goals.
Mission
To advance gender equity for women and girls through research, education, and advocacy.
For more information about the AAUW Aurora Area Branch, email aauwaurorail@gmail.com or visit us on Facebook at  AAUW Aurora – IL Area Branch.
Our branch's programs, from the monthly Bookin' It to Lunch Study Group and Movie Group, to the monthly General Meetings, focus on the AAUW Mission:
Removing Bias from Education
Our October 27, 2021 Program – Critical Race Theory – What it is… What it is Not!, at the Santori Library Community Room, 6pm
Fighting for Fair Pay
Our November 18, 2021 general meeting, Chili/Spaghetti Supper and Presentation Women's Economic Security with guest speaker Shelly Sypien of Family Focused Financial, 5:30pm
Advancing Women in Leadership
Our April 11, 2022 Movie Group discussion of On the Basis of Sex 6:15pm
Learn more about branch activities in our Highlights newsletter.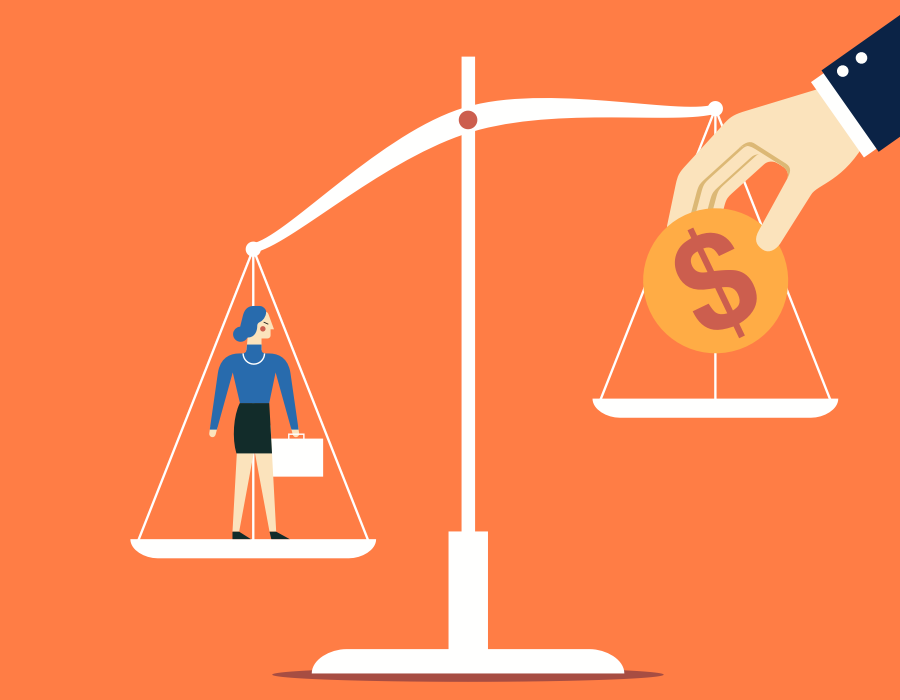 The Fight for Fair Pay
The Simple Truth about the Gender Pay Gap
The gender pay gap is the gap between what men and women are paid. Most commonly, it refers to the median annual pay of all women who work full time and year-round, compared to the pay of a similar cohort of men. Other estimates of the gender pay gap are based on weekly or hourly earnings, or are specific to a particular group of women.
The gender pay gap is the result of many factors, including occupational segregation, bias against working mothers, and direct pay discrimination. Additionally, such things as racial bias, disability, access to education, and age come into play. Consequently, different groups of women experience very different gaps in pay.
Asian American, Native Hawaiian and Pacific Islander Women's Equal Pay Day is May 3. Asian American and Pacific Islander women are paid 75 cents for every dollar paid to white men.
Black Women's Equal Pay Day is September 21. Black women are paid 58 cents for every dollar paid to white men.
Native Women's Equal Pay Day is November 30. Native women are paid 50 cents for every dollar paid to white men.
Latina's Equal Pay Day is December 8. Latinas are paid 49 cents for every dollar paid to white men.